Woodland Metal Spinning is one of the most advanced, Metal Forming manufacturing facilities in Australia.
Our people provide innovative Metal Forming solutions with unmatched customer focus and quality.
Established in 1937, Woodland Metal Spinning has customers Australia wide and is proudly 100% Australian owned and operated by the Crawford family.
Located southwest of Sydney in a modern 2000 square metre factory, Woodland Metal Spinning holds its place in the industry through our outstanding people, modern CNC machinery, in house tool making facility and workmanship.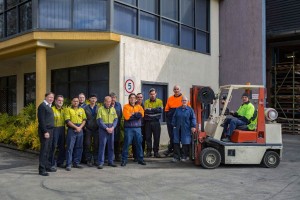 In 2012, the company is again embracing new technologies with the purchase of the latest Leifeld (Germany) CNC spinning lathe. Woodland Metal Spinning can now accurately form Mild Steel up to 8mm and Stainless Steel up to 6mm. This leading technology completes multiple operations in one with unmatched capability in precision and production standards. This is a first for Australia.
Woodland Metal Spinning is proud to lead the field by combining the craftsmanship of yesterday with the modern technology of today.
In todays changing world, you can be sure Woodland Metal Spinning will maintain its solid position through preserving old world values, building long term relationships and supporting our customers through the generations.
Our customers range from a variety of industries including: industrial, commercial, mining and defence.
If you have a special requirement for engineering innovation, or are a high-end design company looking for a perfect finish or complex shapes, we can help.
Call us today on 02 9824 5677 and speak with one of our friendly professionals. We listen to you.
100% Australian owned and operated